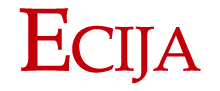 We are most pleased and proud to announce that ECIJA and Tractis have entered into an agreement to collaborate in the development and marketing of joint "techno-legal" solutions.
ECIJA is an unusual law firm. To almost everyone they are not a reference but "the" reference firm in Technology, Media and Telecommunications (TMT) and Information Security. Their list of awards in these areas speaks for itself. However, what not everyone knows is that this avowed focus on TMT is not a mere declaration of intent or marketing posturing, but has a real impact on the company. As an example, their team is made up of 50% technologists and 50% lawyers. It is this company DNA that allows them to tackle complex projects involving technical and legal angles, at a high level of quality that has earned them the success they enjoy today.
We believe ECIJA is an ideal partner and that this agreement is both a recognition and a reinforcement of the Tractis platform and the level it has attained. On the one hand, it strengthens our service offering, especially for those clients making an intensive use of authentication and signature methods offering lower assurance levels, and on the other hand, gives us the opportunity delve deeper in the development of new solutions and explore new uses of our technology hand in hand with one of the top experts in the industry.
By David Blanco
Saved in: Announcements, Legal, Partnerships, Technology, Tractis | No comments » | 23 April 2013
More posts in Negonation Blog