Equifax and Tractis have signed a collaboration agreement with mutual exclusivity to develop and sale innovative solutions that boost the credit market.
About Equifax: world leader in credit scoring
The assessment and rating of credit risk or "credit scoring" comprises a number of statistical tools and techniques that faced with a credit application make possible to evaluate its risk and determine its viability. Pretty much all banks, insurance companies, phone operators, utilities and the like rely on credit scoring for their daily operations. With over 6,500 employees, a direct presence in 17 countries and providing services in some 50, Equifax is the global leader in information solutions in the credit risk industry. Just in Spain, Equifax has over 150 staff, provides services to more than 400 businesses in the financial sector and more than 1,500 SMBs, and handle over 1.5 billion requests per year.
Collaboration agreement with mutual exclusivity
Equifax and Tractis began conversations more than one year ago. Both parties had a very ambitious stated objective: capitalize on new technology enabled opportunities that would create new and powerful credit assessment and reporting solutions. It has been a year full of ideas and interesting discussions, personally most stimulating from an intellectual standpoint. We explored the latest in identity verification, expression of consent, decision rules, workflows, data gathering and optimization of every phase in the credit lifecycle (acceptance, servicing, recovery) focused on achieving the greatest  immediacy, automation and security that the current state of technology allows. Last January the 23rd both parties formalized the relationship with by entering into a mutually exclusive collaboration agreement: Equifax undertakes to use Tractis as their exclusive provider of electronic certification services and, on their part, Tractis agrees to use Equifax as their exclusive provider of credit reports.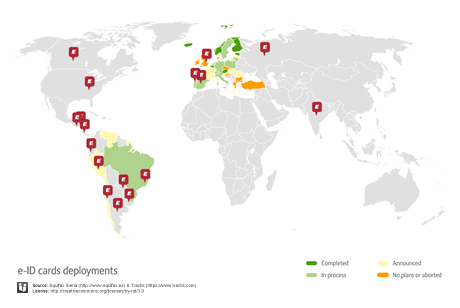 For Equifax, this collaboration represents an powerful way to increase the value of their existing offerings. For Tractis, it is an excellent opportunity to develop expertise in the intersection of identity, data and business intelligence working side by side with the industry leader. For both, it gives us the means to close the circle and provide a complete solution, with an international footprint, in the large number of countries that today are currently undergoing massive e-ID deployments.
Our first product: Instant granting of loans
Today we announce the first result of our collaboration: e-ID based instant granting of loans. The customer, whether on the web or on a store, at an ATM or a bank branch, signs the loan application with their e-ID and gives their consent to the financial institution to investigate their current financial standing (positions, overdue debts, pending claims, etc.). With this authorization, the identity is verified and the application goes through Equifax decision engine. Within few minutes, the customer knows whether the loan has been granted or denied.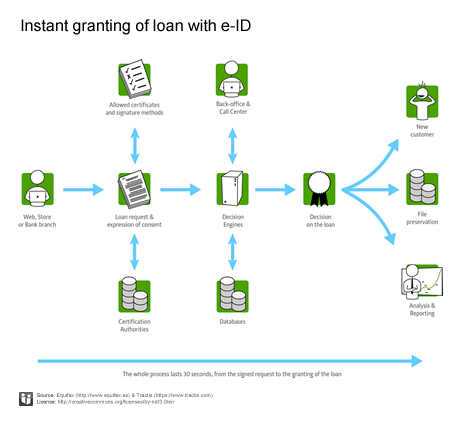 A process that up until now could take days, is now done instantly. Bureaucracy and responnse time are drastically reduced, providing the market with a full service that allows to instantly evaluate the risks associated with the granting of financial products, with benefits for both financial institutions and users. The customer leaves the bank with the loan moneys in his/her account, the store with their home appliance, or the website with their computer financed. Paperless and all in a few minutes. Just with their e-ID. This pioneering initiative is made possible thanks to the integration of the Equifax InterConnect® and  Tractis technology platforms. The final solution:
Allows to evaluate all aspects of the lending process.
Includes tools and platforms that automate financial risk assessment, connection to various sources of data, identity verification and documents execution which has been traditionally done on paper (expression of consent, product contracts, etc) .
Is highly configurable.
Can be delivered to the end customer through web pages, POS, ATM or bank branches.
Offers high usability, allowing the customer to use their electronic ID without having to install drivers on their computer.
While we do not expect a media  effect on the level the Tuenti announcement had, we see this launch as having great impact in the financial, insurance, telecom and utilities industries. More so in the consumer lending companies whose business is to finance purchases in stores, and where providing an immediate response to financing needs means making a sale or losing it.
The intersection between Identity, Data and Business intelligence
Doing e-commerce with security entails not only services that can verify the real ID and obtain proof of consent on-line, but also to have up to date information and trustworthy decision making mechanisms in place. One without the other solves only a part of the problem. The agreement between Equifax and Tractis is a a first step forward in a critical and relevant area for the financial sector: the intersection between Identity, Data and Business intelligence.
Everybody talks about maximizing growth while minimizing risk. Knowing the relevant certified identity attributes, whether they reside inside the electronic certificate (i.e.: name, sex, age, occupation…) or someplace else (i.e. payroll, bad debt status, telephony spending during the last 3 months, house valuation, etc.), in an instantaneous, efficient, low cost and actionable fashion, while guaranteeing a scrupulous respect to personal free will and privacy  and to applicable law, makes all the difference and is critical to acquire more clients, faster and with lower fraud. A really disruptive katana.
Both, the Equifax and the Tractis teams are really excited about this collaboration. We see this agreement as the first step in the very promising and highly relevant area of the intersection between identity and data. We are already at work on new products, some of which will see the light very soon. Other will take longer, as they reflect our vision of where the ball will be in 5 years time.
By David Blanco
Saved in: Announcements, Business, Partnerships, Tractis | No comments » | 21 May 2012
More posts in Negonation Blog