From day one all our product families (Identity, Signatures, Webservices and Hardware) have been available in three languages: Spanish, Catalan and English.
From today you can also visit the Tractis commercial website in English. All you have to do is to use the language selector you will find on the top right corner of some pages (see image below) or the one at the bottom of all pages.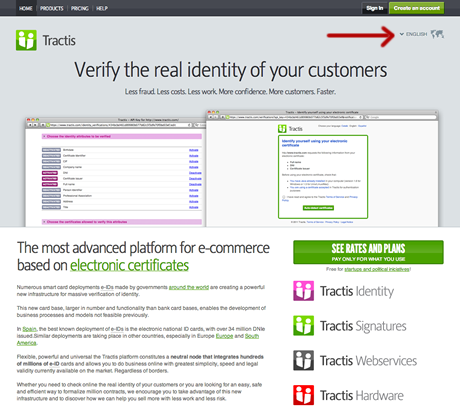 As we mentioned in November, when bringing out the English version of the Tractis Terms and Policies, we are working to have full multi-language functionality, not just for our products, but also for our commercial website and other marketing materials. Likewise we are working to expand the information and make more of languages available on our website.
Any comment or suggestion for improvement will be most welcome.
By David Blanco
Saved in: Announcements, Tractis | No comments » | 26 February 2013
More posts in Negonation Blog