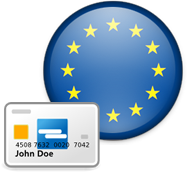 This is the third post in the series entitled "Smart cards in Europe". In the introductory post, we affirmed that Europe is about to receive 1 billion "smart cards with strong authentication and digital signature capabilities" which have the potential to change the way we do electronic commerce. The source of the card avalanche is two-fold:
Smart cards issued by governments to identify their citizens (Electrionic Identification Cards: e-IDs).
Smart cards issued by banks to substitute magnetic strip cards (EMVs).
This third post describes the second type. We've analysed the situation in 31 european countries (EU-27 plus Liechtenstein, Iceland, Norway and Switzerland). This is what we've found:
In 2010, all European bank cards, some 590 million of them, will be smart cards (EMVs) with strong authentication and digital signature capabilities.

If you don't believe us, read on:
European banks that plan to launch EMV smart cards
Short answer: all of them.
In 2000 the European Commission decided that to foster innovation (Lisbon Agenda) the single market must make it easier to move money around the EU. Specifically, cross-border payments should not cost more than domestic payments. In other words, you can use your bank card in another EU country and they won't charge you any more commission to withdraw money as they do in your home country. This initiative is known as the Single Euro Payment Area or SEPA. The SEPA zone encompasses 31 european countries (EU-27 plus Liechtenstein, Iceland, Norway and Switzerland).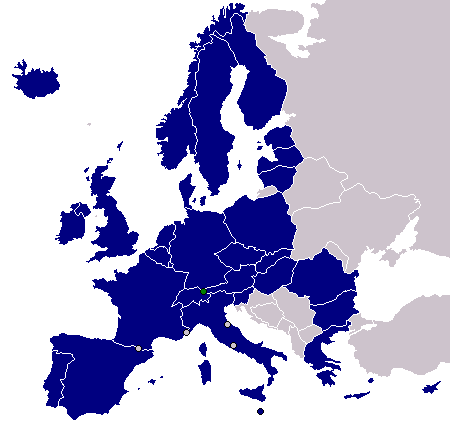 To make SEPA a reality, all the EU banks need to agree on the same standards and implement the same procedures to ensure interoperability at the moment of accepting a card. To give an example, a cash machine (ATM) in Austria should be capable of accepting and understanding a card issued by an Italian bank. Said and done: the standard was developed by Europay, Mastercard and Visa and they called it EMV (the initials of the three companies). EMV will mean that there will be no difference between national and transfers within Europe. EMV will make SEPA a reality – meaning cheaper payments and faster money transfers between countries in the eurozone.
The EMV standard is based on "Smart cards with a microprocessor chip" and this microprocessor chip is capable of storing not just financial applications (EMV) but also other types of application such as strong authentication and digital signature. As you can see, EMV cards are (or have the capability to be) similar in functionality to eID smart cards. The only difference is that they are issued by a bank instead of a government.
EMV deployment phases in Europe
The banks of these 31 countries are obliged by SEPA to migrate all their magnetic strip cards to EMV smart cards. They have from January 2008 to 31st December 2010 to do the migration.
Experts consider that most of these countries will have completed the migration to EMV by 2009, one year before the deadline:
2006: United Kingdom has already completed 90-100%. France 50-90%. Rest 10-50%.
2007: United Kingdom and France will have completed 90-100%. Rest 50% to 90%.
2008: All will have completed 90-100%, except for Germany, which will have completed 50-90%.
2009: All will have completed 90-100% of migration to EMV.
Conclusions
If you live in Europe, you will soon have an EMV smart card in your pocket.
Europe is the undisputed leader at global level in EMV deployment (since 2002 – see slides 3 and 5 of this presentation). Europe has more than 50% of the total number of smart cards in the world (of the 590 million smart cards worldwide, 300 million are in Europe). Europe has more smart cards than magnetic strip cards (of the 587 million bank cards in Europe, 300 million are smart cards). The obligations imposed by SEPA on European banks mean that Europe will increase this lead.
We're not saying that all EMV cards will be capable of digital signature (like the majority of eID cards). We are saying that (1) if the banks want to use it, the technology is there and (2) many do plan on using it. In our conversations with the main card issuers in Spain, the majority have plans to incorporate signature certificates in the chips. The objective is that the client identifies his/her self and signs online with a card and the look and feel of the bank. Once the adverts start, it's difficult to imagine the rest of the banks failing to offer the same functionality.
EMV around the world
Europe is not alone: Banks in various countries are migrating their magnetic strip cards to EMV smart cards (Turkey, Brazil, Taiwan, Japan, Malaysia etc.).
As of year-end 2006 there were 3 billion bank cards in circulation. Of these, between 515 (source: GIA Cartes Bancaires) and 590 million (source: Deutsche Bank) were microprocessor smart cards:
Europe: 300 million smart cards.
Asia/Pacific: 150 million smart cards.
South America: 140 million smart cards.
USA: Has no EMV-compliant cards and, as with e-ID cards, is reluctant to introduce them.
Given the benefits of smart cards, it is just a matter of time before banks around the world change from magnetic strip to smart cards. The growth potential in this sector lies in the prospective migration of the 2.5 billion magnetic strip cards in circulation. Deutsche Bank estimates smart card growth of 18% CAGR in the payments industry between 2006 and 2010. In 2006 430 million smart cards were sold – 12% penetration, with France and Germany leading the way. In 2007 544 million were expected to have been sold (34% attributable just to EMV migration). In 2010, 600 million smart cards are expected to be sold every year with 26% penetration.
By 2010 there will be 830 million EMV cards in Europe, Asia and Latin America.
Something is changing, don't you think?
Next post (and the last in the series): "Smart cards in Europe: Conclusions".
By David Blanco
Saved in: e-Signatures, Identity, Internet | No comments » | 1 April 2008
More posts in Negonation Blog