In December, 2011, we announced the launch of Tractis ProBono, a Tractis initiative geared to promoting the use of electronic certification among political and social change movements and initiatives.
Tractis ProBono grows
We are very happy with the feed-back received and the way ProBono has been received and used for political issues. We have decided to broaden Tractis ProBono reach to include not just political initiatives but, also, startups.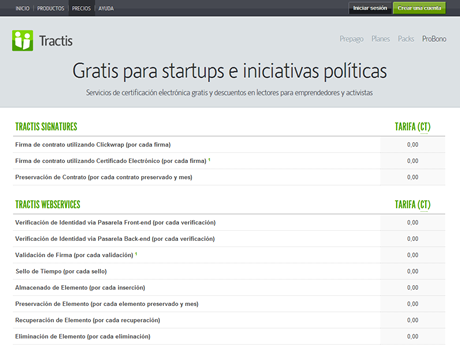 Thanks to Tractis ProBono, as of today, any startup can benefit from the free use of all Tractis services and acquire intelligent card readers at discount prices or completely for free.
What kind of businesses can benefit?
The definition of a "startup" given by Steve Blank is probably the best: "a temporary organization formed to search for a repeatable and scalable business model". Although almost perfect conceptually, it is not very useful for us to determine in practice what kind of businesses can enjoy Tractis services for free and which cannot. We need to settle down on some criterion that does not lend itself to argument.
For Tractis ProBono purposes, we have decided to consider a "startup" any business with less than 10 employees and yearly revenue under € 100,000, regardless of their date of establishment.
Rights and obligations
The benefits of joining Tractis ProBono have been mention already: services and readers discounted or free.
As opposed to the rest of Tractis users, startups admitted under Tractis ProBono are not subject to Tractis reasonable use Policy, they can use Tractis services for free without limit. This means, Users, APIs and unlimited transactions.
The obligations consist of respecting the Tractis attribution Policy and giving Tractis permission to use the name of your startup as a reference.
You can find the updated text regulating from now Tractis ProBono on the Tractis ProBono terms.
How do I enroll?
If you meet the requirements to participate in Tractis ProBono, the enrollment process is fast and simple. A legal representative of your business, or the entrepreneur behind the project (should the company not be formed yet) has to complete and sign electronically the "Tractis ProBono Application".
Once the application has been reviewed and checked that the conditions for participation are met, we from Tractis will sign electronically the document also, so it becomes binding for both parties.
Final words
It is for us a pleasure to extend the ProBono program to promote and facilitate entrepreneurship.
Crisis or no crisis, the number of electronic certificates does not stop growing worldwide. Just last week Spain announced that it had passed the 29 million mark of DNIe issued. With all that is befalling us these days, we think it would be a great shame that entrepreneurs with ideas for new and innovative services using electronic certification could not make them happen for lack of resources.
Not a single one of these ideas should remain untried.
By David Blanco
Saved in: Announcements, Entrepreneurs, Tractis, Tractis Hardware | No comments » | 6 June 2012
More posts in Negonation Blog