We start 2012 with some big news. We are very happy to announce that "Tu", the mobile virtual network operator owned by the Tuenti social network, has chosen Tractis as their platform to verify their clients identity.
A bit of background for those not quite up to speed: with some 8 million active user and 40 billion page views per month, Spanish Tuenti is one of the largest social networks in the world. They have the have the highest per user average (7.63 hours vs. 4.29 for Facebook) and the site with the heaviest traffic in Spain (15% of the web traffic).
Tu, Tuenti's mobile phone operator
In the last year Tuenti has been developing the beta version of "Tu", their mobile virtual network operator (MVNO) that runs on the Movistar network. In these last years, a number of MVNOs have started operating in Spain, nevertheless, due to its special relationship with Tuenti, Tu enjoys clearly differentiated social features, services and positioning.
Its launch was accompanied by aggressive fees, free calls and SMSs between Tu and Tu users and free navigation on Tuenti from cell phones. This last Christmas they carried out a bold marketing coup with their "Smartphones for all" campaign, selling the ZTE Racer II smartphone, the least expensive  Android on the market, for just 59 €, on a prepayment basis and no term length requirements.
Why is there a need to verify the identity of prepayment customers?
Since November 9th 2007, mobile phone operators in Spain are required to verify the identity of their clients acquiring prepaid cards. For this, individual customers must present their DNI (National ID card), passport or foreign resident ID, and businesses have to show their tax number ID. Large phone operators, such as Telefonica, Vodafone or Orange, use their large network of retail stores to do this in person. But, what about the MVNOs that do not have physical stores?
Up to now, they have made it using scanned documents or, alternatively, resorting to express couriers as their form of verifying identities. The courier has instructions to ask the receiver for the ID documents and, only after checking them, deliver the SIM card package.
Nevertheless, these solutions entail several problems:
The identity verification system is no trustworthy

: Presenting a photocopy of a credential is not as secure as producing the actual credential. The former is clearly easier to tamper with. And in the case of deliveries it is a known fact that the degree of compliance with the verification requirements varies a lot, not only among couriers, but among employees within a courier.

Enormous limitations in selling possibilities:

Sending prepaid cards by courier is just one of many sale scenarios. There are many more where it makes perfect sense to offer prepaid cards on a display stand, let the customers pick them up and pay for them on their way out, just like any other product, without further ado or paperwork. Until now this was out of the reach of MVNOs without a physical retail network, of their own or in partnership.
The identity verification process with Tractis, step by step
Tu is the first MVNO in Spain to use the DNIe as a device to verify the identity of their SIM card customers. From the customer point of view, these are the steps to follow:
Acquire a Tu prepaid card in their virtual store or in any other store, let's say, a Vips retail store.
Visit tuenti.com/activatusim and introduce your card code.
Use your DNIe to verify your identity and activate the card.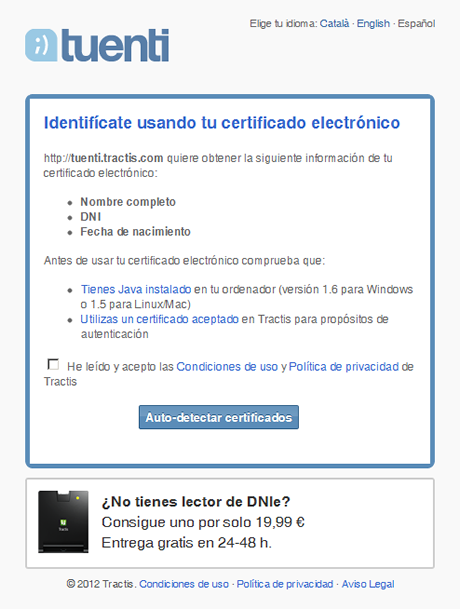 As simple as that. You do not need to install the DNIe drivers and, if you do not have a reader, we send you one from Tractis to your home within 24 hours at a very keen price. After the launch of the beta version and the appropriate test period, both Tuenti and Tractis are very satisfied with the results and excited about the coming new use cases, improvements and applications.
Pioneers in real identity
In many appearances Tuenti has pointed out, on a continued basis, their objective of becoming the social media platform where privacy, real identity, trust, conversations and relevant content are paramount.
With this move Tuenti advances another step in their strategy, gives proof of their firm commitment to use reliable systems when it comes to comply with current legislation, shows the intelligence to take advantage of the powerful infrastructure in place (over 25 million DNIe and growing at a rate of 6 million more per year) and, like a business judoka, transforms a MVNO weakness (lack of a retail sales network) into an efficiency and cost advantage with respect to more traditional competitors.
We hope that many other phone operators will walk down the road that Tuenti has just opened.
—
Update 2012.01.25: Among other, the following media have reported this news: El Economista, Cinco días, El Mundo, La Razón, La Información, 20 Minutos, eitb, El Periódico, El Norte de Castilla, La Voz de Galicia, La Voz de Valencia, Diario de Navarra, El Digital de Madrid, Ideal, ElReferente, EuropaPress, RRHH Press, Periodista Digital, PCActual, MuyComputerPRO, Xataka, Genbeta, GenbetaDev, Menéame, FayerWayer, Visual Beta, Microlópez, TechWeekEurope, finanzas.com, Cotizalia, Telecinco, Antena 3, Terra, Dirigentes, Weborama, Trece Bits, EnlaceGeek, TodoStartUps, Iberestudios, El Experto Digital, La Voz Libre, El periódico de la publicidad, Revista Facturación Electrónica, Obvio,  El Grupo Informático, MarketingNews, Seetio, Generaccion.com, Agencia Manada, Mas que redes, Hábeas Data, Segu-Info, Forocoches, messenger.es, Tecnología21, TecnoZone, Tech.Cero, Tecnologyc, Globedia, brainhardware, Sigher, Blocly, Árbol de noticias, benjalink, OMV, Protección de datos en Andalucía, geekuu, Oh! Tech, Netcomshop, ArgoRED, NEWS PCS asycom, AENTA, noticiasynoticias, sixpads, todomdp, dgtalnws, Zona Internet, redticos, EmpresasyMercados, Vlimix, DigitalDomain, Tecnopcx, zebramedia, Código Zero, fulltono, ORSI, blogfree, ceroblog, gentedigital, boxbaster, tecnorevista, Lo mejor de cada casa, Noticias tecnológicas, eprodisa, Guía de Internet, CanalBlog, NoticiasDot, o24n, ZonaTotal, CucoAlmería, inkawebdesign, TecnoDerecho, TopFormación, itnoticias, Los Pequez, GooglePlusAdictos,  TuentiAdictos, ¿Qué es Tuenti?, El Mundo Tuenti y muchos más.
By David Blanco
Saved in: Announcements, Customers, Tractis Identity | 1 comment » | 9 January 2012
One comment in "Tuenti chooses Tractis to verify the identity of their phone clients"
More posts in Negonation Blog