We have decided to make our monthly subscription Plans still more attractive. Besides enjoying fees up to 30% lower, free clickwrap signatures, unlimited users and APIs, as of today, you will get free readers also when you contract your Plan.
The number of free readers that you will get varies with the Plan you contract:
Basic Plan (9,99 €/month):

1 courtesy reader.

Startup Plan (49 €/month):

3 courtesy readers.

Business Plan (199 €/month):

10 courtesy readers.

Enterprise Plan (599 €/month)

: 30 courtesy readers.
This promotion applies only to new Plans and is limited to one Reader Pack per client and Plan. The reader model you will receive will be the Tractis Slim Reader , a reader compatible with all operating systems, ultra slim design and with an extremely low error rate (0,07%). The procedure for getting the readers is simple: once you contract your monthly subscription Plan, you will get an email with a link to place your order and enter the address where you want your courtesy readers delivered. You will receive them within 24-48 hours.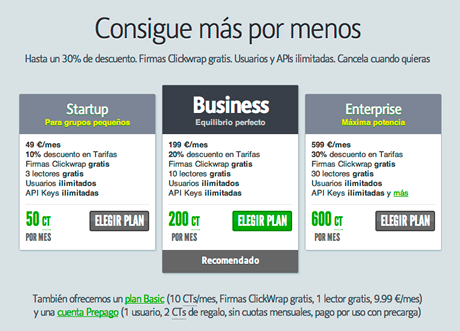 As always, there is no time commitment to the Plan. You may cancel when you want. For example, it is perfectly acceptable to contract your Plan just to try it, get the free readers and discontinue it the next month. Easy, immediate and no questions asked.
We are aware that, in many cases, the value of the readers exceeds the first month fee. No problem. We are confident that, once you experience the advantages of operating on-line, with zero paperwork, zero to and from, zero queuing and zero waiting, you will not go back.
We encourage you to try the Tractis Plans. You will get everything you need to start benefiting from the DNIe, using the most advanced e-commerce platform and without risking anything.
By David Blanco
Saved in: Announcements, Tractis, Tractis Hardware | No comments » | 11 September 2012
More posts in Negonation Blog