The winners
First of all I would like to publicly congratulate the winners of the 1st Edition of the Glider Awards: José Luis Gordo, Ernesto Jiménez and Juanse Pérez. Despite our fears, the system has worked. The collaborators chose wisely. It's difficult to think of people who deserved it more.
New negonators
The following collaborators have recently joined us:
Carlos González: Carlos is Chief Security Officer at netfocus, which provides the certification authority to CatCert and develops the Semantic Validation Authority (probably the most advanced VA in the world). Carlos has an impressive amount of knowledge, he's full of new ideas, and he doesn't mind rolling up his sleeves to punch codes if necessary.
Rubén Lozano: a web designer who specializes in XHTML and CSS. He works at Prisacom and is one of the creators of "vivirmadrid.com", a web site full of ideas on how to enjoy Madrid. Rubén is Negonation's first "designer" collaborator and will help Diego to implement the design in the various components of Tractis. His first task was to install Rails and study the CSS… When he's ready, he'll work side by side with Juan Lupión in tractis-people, a component for creating connections and groups between Tractis' various users.
Javier Pérez and Andrés Nieto: they will help us with javascript. Ernesto Jiménez, our javascript guru, part of the team who won the Rapid Programming Competition at the 2006 Campus Party, and winner of a Glider Award, arf, arf…, is going to Finland with a grant to finish his degree
. Javier and Andrés will carry on with Ernesto's work. The level is very high. So far, Javier has already become involved in Dojo.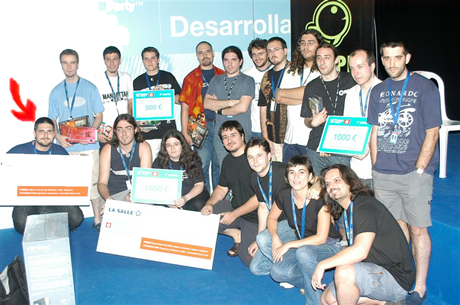 Monthly employee meeting
Every month, Manuel, Diego and I meet for 2-3 days to maintain our contact (we live and work in different cities), plan the work and anything else that arises. After Madrid and Barcelona, last weekend we met in Valladolid. Most of the work focused on the changes we are going to introduce in the text editor and lock system. We want to go ahead bit by bit and lay the perfect foundation before getting involved with new components.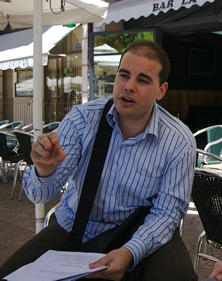 Carlos González paid us a visit so we could meet each other and discuss the strategy and business model of Tractis. Diego "Kobayasi is a beginner compared to me" Lafuente again left us gobsmacked. How can anyone so thin eat so much defies any scientific explanation. We ended up at the zerocafé on Saturday night. I detected a certain similarity in our predilection for the gothics…and I don't mean the songs.
The summer: calm before the storm
These are strange days at Negonation. Manuel Santos and most of the collaborators are on holiday, although Diego and I continue to be on the job. The development of new functions has slowed down. There is some calm at the moment and this is the time to re-think and re-organize ourselves. Before the summer we began to have serious problems in coordinating ourselves efficiently. Some collaborators had too much work while others waited several days for an answer to continue going ahead. At the end of the summer, the situation will worsen. Right now there are only 17 "active" developer collaborators (6 available) and we expect the number to increase considerably in the coming months…
By David Blanco
Saved in: Announcements, Tractis | 1 comment » | 19 August 2006
One comment in "Negonation Update – 19 August 2006"
More posts in Negonation Blog