Last weekend we attended the first Spanish Rails Conference (called Conferencia Rails Hispana 2006) in Madrid. It was absolutely full, with high quality presentations and, most importantly, a very good atmosphere.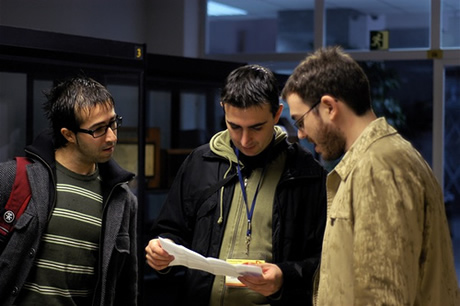 The conference was the perfect excuse for us all to meet up: David Calavera, Vidal Carro, Luismi Cavallé. Various collaborators that we'd never seen in person. On Saturday night (25th) we went out for tapas in La Latina together with some habitual reader of this blog

. It was great to be together and put a face to many people that we only knew from e-mail, chats and phone/skype conversations. Various negonators participated as speakers and you can download their presentations here:
Ernesto Jímenez, veteran negonator, couldn't attend because he's studying the final year of his degree in Helsinki. But that didn't stop him. Not content with winning the speed programming contest at the campus party this year, he also signed up for the speed programming contest at the conference….and won again. The result: Battleships in RoR (coded under the GPL license), 48 hours without sleep and the prize of a beautiful 80Gb iPod
Negonation apart, the presentations on XML support in Rails (by Javier Rámirez of ASPgems), Systems Administration in La Coctelera and The Shaker (by Fernando García Samblas and Alvaro Ortíz of La Coctelera) and Testing in Ruby on Rails by Jean-Michel Garnier were very very good. We've talked for some time about Tests on the mailing lists and the presentation by Jean-Michel (the lower photo) in the end convinced us of the need to incorporate them into our development.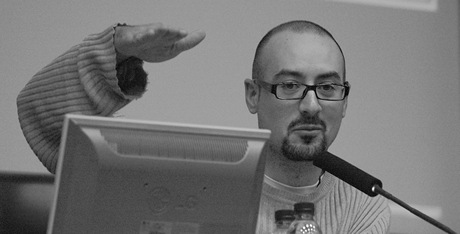 Unreserved congratulations to those who worked to make this event a reality. We should do it again.
One more thing…: Launch of Project FIT
We've saved the best 'till last. As announced by Juanse Pérez at the end of the internationalisation presentation, we want to start a new project that overcomes the problems currently faced when translating web applications. The translators complain that they need to learn unusable and different applications for each client. The designers want to eliminate the complex management of the translated files and automate the process as much as possible. David Heinemeier Hansson, creator of Rails, afirmed during the videoconference on the Saturday that 'Internationalisation' means different things for different people and, therefore he sees the solution as a plugin and not a core part of Rails. This is the right moment. We invite you to participate in a new project: FIT or "Found in Translation", an open source tool that makes life easy for the designers of international applications and enables translation companies, vendors/integrators of software and start-ups/clients to standardize. We now have a mailing list (fit_project@googlegroups.com). Do we need anything else?
By David Blanco
Saved in: Conferences, Programming | No comments » | 9 December 2006
More posts in Negonation Blog