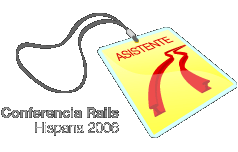 The first Spanish Rails Conference will be held in Madrid on 24 and 25 of November. The final program (24th & 25th) was announced today. The conference's star will obviously be "Ruby on Rails": the sum of the "Ruby" language and the "Rails" web development framework. A combination that is literally revolutionizing the programming world. The conference is a unique opportunity to share experiences, meet some of the best Spanish-speaking web developers and learn about real experiences using Rails.
At Negonation, we use Rails to develop Tractis. Several negonators will participate as speakers on subjects related or not related to Tractis but always with Rails as the leitmotiv:
Juanse Pérez (tractis-translation) will explain about the available tools and the state of the internationalization art in Rails. I highly recommend this if you are developing a web site in Rails that has to be available in various languages. Installation and configuration of Ruby-gettext, i18n, Pootle and several subjects to consider.
Juanjo Bazán (tractis-setting) will help Java programmers who are interested in, or starting with, Rails. A crash course on the main differences in classes, methods, namespaces, etc. and the "Ruby way" on programming.
Juan Lupión (tractis-people) will present a project together with JJ Merelo: a distributed processing architecture (ala seti@home) using a Rails application as the server. To prove the concept, they will describe how to implement and resolve a genetic algorithm.
Manuel Santos (tractis-core) will talk about his experience in the development of Tractis. Architecture, components, platforms (SVN, Trac), deployment (Capistrano) and development decisions in the real world and with a distributed programmers' group.
All the speeches, round tables and activities look good. There will be several contests and an install party where you will be helped to configure your equipment for working with Rails. David Heinemeier Hansson, creator of Ruby on Rails, is expected to participate by videoconference. Tickets cost €60 (€30 for students and €0 for active Negonation collaborators
) and they include food, coffee and a commemorating T-shirt, as well as discounts for book purchases and hosting. The Rails introductory presentations are free. It's an event by and for the community. Nobody obtains a profit. For those who can't attend and for Spanish-speakers from the other side of the pond, all the event's conferences are in the evening and will be streamed.
Don't miss it. In the meantime, to take the edge off your appetite…
By David Blanco
Saved in: Announcements, Conferences, Programming | 3 comments » | 5 November 2006
3 comments in "The final program of the Spanish Rails Conference 2006 is finally available"
More posts in Negonation Blog