We recently updated the "Tractis Identity Verifications Plugin for WordPress" to ensure proper operation with the latest version of WordPress (4.2.2.).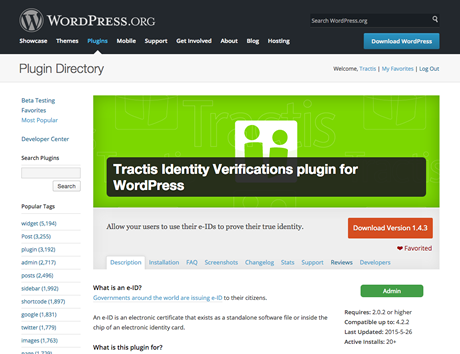 Once installed, this plugin provides users of your WordPress site the option to accredit their real identity by means of electronic certificates. Thus, making possible to know the real identity of the author of each comment.
From the user point of view, it works as follows:
The user clicks on the identity verification button to start the verification process.
Then, the user completes the identity verification process on the Tractis gateway.
Next, the user makes a comment, which will appear accompanied by an identity verification banner.
When other users click on the banner, they will be redirected to the identity verification test that will let them check the real identity of the author of the comment.
In this video you can see the entire process:
The plugin is completely free and all the verifications are made at no cost. The use of the plugin is subject to the Tractis Reasonable Use Policy.
Currently, the plugin supports 79 digital certificates from 33 Certification Authorities in 14 countries. If you use an electronic certificate that we do not yet support and would like us to include it, write us to certificates@tractis.com.
The plugin is available in the following languages: English, Spanish, Catalan and Italian. If you would like to help us translate it into other languages, write us to translations@tractis.com.
You can find additional information in the plugin page in WordPress and in our help section. For any questions or comments, please, send an email to verifications@tractis.com and we will respond as soon as possible.
By David Blanco
Saved in: Announcements, Tractis Identity | No comments » | 26 May 2015
More posts in Negonation Blog