Today we announce the official launch of Monthly Subscription Plans in Tractis.
Until now, the Tractis platform has worked in a strict pay-per-use mode. As a user you can buy Tractis Credit, spend it in any Tractis services you choose and then reload your credit at your pace (or not). We believe this to be an extremely powerful proposal: maximum flexibility and zero permanence commitment. In two words: complete freedom.
Today we go one step further by, in addition, offering the possibility of subscribing monthly plans. In exchange for a monthly payment you will be able to obtain up to 30% discount on the regular Fees applicable to your transactions, and unlimited users and API's, free clickwrap signatures. And, of course, you can cancel your Plan whenever you want. In short, the Tractis Plans allow you to have much more for much less.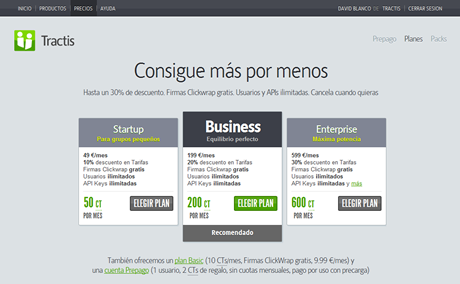 Prepayment vs. Plans: Which consumption mode is better for me?
With the introduction of the Plans, all existing Tractis accounts change their name to "Prepay Accounts" and will continue to enjoy the same Fees applied until now. As of today, new Tractis accounts include 2 courtesy Tractis Credits and are limited to a single user, a single Tractis Identity API per account.
It is important to point out that the new Plans do not mean the disappearance of strict pay-per-use. Buying a Plan is not required to use Tractis. Both modes of consumption coexist. As a user you are free to choose the one you like better. No option is discontinued. Quite the opposite: there are more options now. Likewise, this new mode of payment DOES NOT restrict your freedom or creates "lock in" to the platform (you can cancel your Plan at anytime).
The main difference between "Prepay Accounts" and "Plan Accounts" is in the time you have to use your credit. As a prepayment user, your Credit never expires and you can use it as it suits you best. Conversely, as a Plan user, you get a "Monthly Credit" that you can only use within that month. Any Monthly Credit you do not consume will expire at the end all the month.
As you see, Plans are thought out for those users or businesses that, knowing they do a minimum number of transactions per month regularly, want to automate their Credit reloads, while enjoying better fees and functionalities.
Find out which Plan is right for you
All Plans have several advantages in common: multiuser accounts, unlimited API's and free clickwrap signatures. There are 4 different Plans. In ascending order:
How do Plans work?
Controlling your credit use with a Monthly Subscription Plan is very easy.
When you sign up for a Plan, you get the "Monthly Credit" corresponding to your plan. The Tractis Credit (TC) that you might have in your Account before contracting the Plan will show up as "Additional Credit".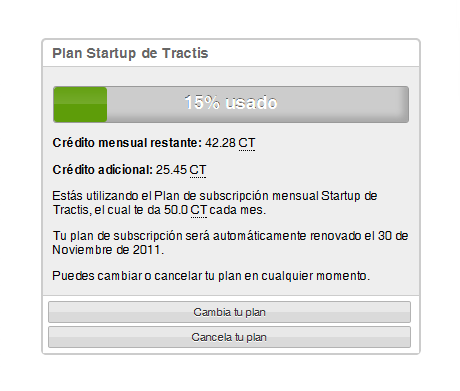 Every time you do a transaction, Tractis will try first to charge it against your "Monthly Credit" at your Plan fees. Only once you have exhausted your Monthly Credit, Tractis will do the charge against your "Additional Credit" at the standard Prepayment Fees. In this way you are assured that you get the most from your Monthly Credit every month.
Should you cancel your Plan, your Monthly Credit will disappear and you will keep your Additional Credit, that now will be called simply "Credit" again.
That is all. We hope these new recurring consumption modes, additional functionalities and improved fees will be of your interest.
Thanks for using Tractis.
By David Blanco
Saved in: Announcements, Tractis | No comments » | 2 November 2011
More posts in Negonation Blog