We are pleased to announce that Caixa Galicia will use Tractis to allow their customers to digitally sign 100% online contracts. Caixa Galicia is one of the main savings banks in Spain and Europe. Its online banking division has more than 36,000 clients and manages more than 800 million euros. In other words, a big player in the online sector.
Caixa Galicia debuts digital signature of contracts with DNIe in the Spanish banking sector
The announcement is especially important because, although there are financial entities in Spain such as Bankinter, Kutxa, Caja Madrid or Banc Sabadell that have incorporated DNIe to authenticate ('verify the identity of') their users, Caixa Galicia is the first in Spain that allows the use of DNIe and other certificates for the digital signature of contracts with their customers. A big step that we're proud to be a part of.
Caixa Galicia gave a press conference yesterday and also distributed a press release which various radio stations (SER), written press and online (Ya.com/Finanzas.com, Terra/Invertia, Yahoo Finanzas, Cinco Días, Abc.es, El Economista, Europa Press, El Correo Gallego, Todo es electrónico , Loogic, Enrique Dans and others) have picked up on and are broadcasting news of this event.
The first process: Opening accounts without bureaucracy
The first contractual process that has changed to use digital signatures with DNIe is the opening of accounts. From today, people who want to open an account with Caixa Galicia can do it 100% online, signing with their DNIe (or any other certificate accepted by Tractis), from the comfort of their home, without forms, without waiting and without visiting a branch.
The decision of Caixa Galicia to start with this process (vs. contracts with existing clients) shows their interest in the acquisition of new customers, making their life easier and at the same time complying with the new Spanish legislation on contracting services electronically.
This diagram shows the flow of the contracting process: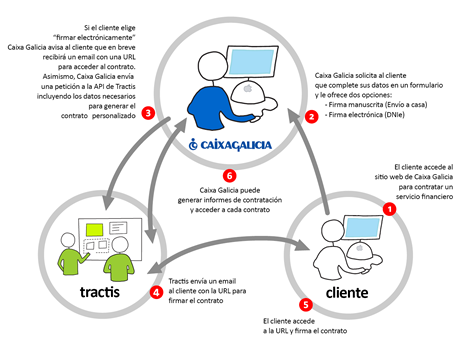 Easy, no? In reality it is a flow that is applicable to any contracting process where the company needs to compile information in advance about the client (phase 2: forms) in order to be able to later present them with a personalised contract containing the solicited information, ready for them to digitally sign (phase 5: signing).
This is what the client sees in Phase 2, a web page served by Caixa Galicia: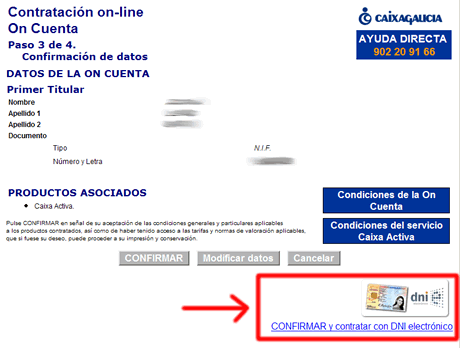 and this is what the client sees in Phase 5, a web page with the personalised contract ready to sign. All with the URL, logo and look & feel of Caixa Galicia but served from Tractis: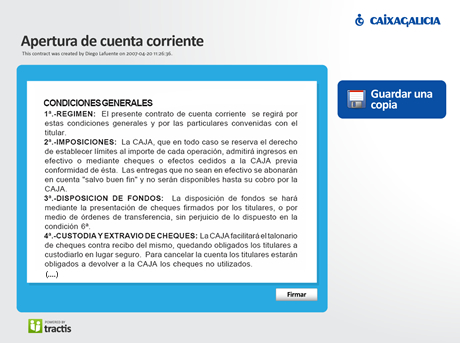 An unbeatable experience
The experience of working with Caixa Galicia has been unbeatable. We've been very lucky to work with a team that is so professional, but at the same time so easy to get on with for our first big client. We're especially grateful to Antonio Vazquez de Parga and Iván Rodríguez González from the Caixa Galicia digital strategy team for their vision and valuable feedback. Since they've given the green light to the project in December 2007 everything has worked out perfectly. The integration of the technology took only 2 weeks and the rest of the time was taken up with testing, training the customer service department, preparing the marketing launch material, changing the web pages, press release etc. A record time given the size of the client and the process implications.
Our first (big) client
Today 12th March 2008 is a very special day for us. It's our first production launch of a big client using the Tractis API and processes that affect individuals and SMEs, our real focus. Successes such as this mean that all those hours without sleeping, the personal and professional sacrifices and bets of the team have been worthwhile. We're on the right road. We're very happy
. We hope that this is just the start of the good news during 2008.
By David Blanco
Saved in: Announcements, Clients, Tractis | 1 comment » | 12 March 2008
One comment in "Caixa Galicia chooses Tractis for digitally signing contracts"
More posts in Negonation Blog