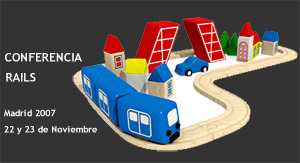 The Spanish rails conference 2007 will take place in Madrid this week – on the 22nd and 23rd. Last year it was a big success and this year promises to be more of the same: two days of interesting-looking presentations that will allow us to meet and share a few beers with meet many of our negonators. As per last year, Tractis will be represented in some of the talks:
Ernesto Jiménez, who couldn't attend last year because he was in Finland (although he still won the speed programming contest at the conference) will present the Tractis platform in his talk "Case study: A technical spotlight on Tractis" in which he will give an overview of some of the specific design details of Tractis.
Ernesto will appear again, joining the list of negonators that will give presentations that are not directly related to Tractis:
David Calavera will talk about the tools that ruby makes available to interact with the atomPub protocol, how to test it's implementation and an example of the use of the 11870 API.
Juan Lupión will present Slingshot, the open source alternative for integrating web applications with the desktop using Ruby On Rails.
Juanjo Bazán will encourage the attendees to contribute improvements to the Rails repository and will explain the necessary steps to add code to the project.
Ernesto Jiménez will revise the common web security vulnerabilities and will comment on the tools available in Rails to avoid these types of vulnerabilities.
All the sessions look good and the difficulty will be choosing which to attend. For all of you who cannot go to the talks, they will be recorded on video and made publicly available including, of course, the keynote presentantion by Obie Fernández which will close the conference.
By Juanjo Bazán
Saved in: Announcements, Conferences, Programming | 1 comment » | 19 November 2007
One comment in "Conferencia Rails Hispana – Spanish Rails Conference – 2007"
More posts in Negonation Blog