Following the launch of the new Tractis Contracts website, today we announce the launch of the new Tractis Templates website.
Automate the creation of your contracts
Tractis Templates allows you to automate the creation of contracts using reusable templates. You just have to create your template and specify the details of the contracts that will be generated from it.
Creating and customizing contracts is one of the most tedious commercial tasks there is. Can you imagine your customers doing that for you? Tractis Templates allows you to do just that. Just define once, the text, fields, signature methods and workflows of your template and let your customers do the rest. And, best of all, it is free.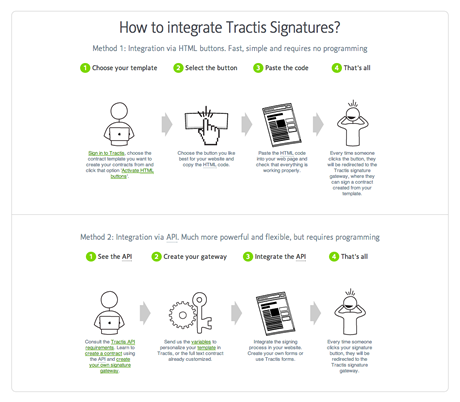 Tractis Templates allows you to invoke contract templates from your own applications or web services. You have two integration methods: via HTML buttons (easy, fast and requires no programming) or via API (more powerful and flexible, but requires programming).
The hidden gem of Tractis
Tractis Templates is often unfairly overshadowed by Tractis Contracts, its service sibling. It is a shame. The opportunities for optimization in contracting processes begin long before the mere formalization (signature) of a contract.
In fact, Tractis Templates is a key service for Tractis daily functioning. It allow us to automate contracting processes, save time and, by freeing us from repetitive low value tasks in creating and customizing contracts, it helps us maintain high productivity and team morale. As an example, all our processes for applying to Tractis ProBono, enrollment in the Tractis affiliation program, purchase of Credit Packs, contracting SLAs,  signing NDAs prior to agreements, letters of proxy voting in general meetings… run on Tractis Templates. Ultimately, Tractis Templates enables us to do more (quotations, purchases, partnerships…) with less (emails, hours, employees…).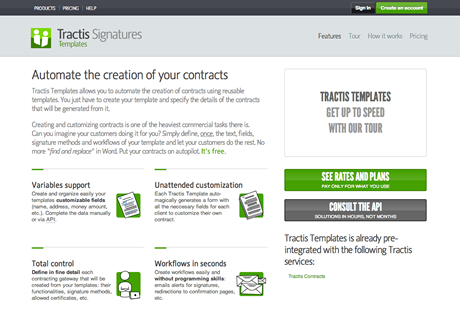 We hope this new website will help raise the awareness of the major features and main functionalities of this "hidden gem" of the Tractis platform.
Put your contracts on autopilot. You will not regret it. You will only regret not having done it before.
By David Blanco
Saved in: Announcements, Tractis Signatures | No comments » | 28 May 2013
More posts in Negonation Blog