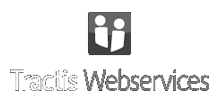 We at Tractis have spent the last 18 months toiling down in the coal pit. Yes, there have been collaborations, important milestones, improvements, new certificates… ,but the true struggle, the one to which all the team have devotedly dedicated 80% of our time during this year and a half, is in readying the launch we announce today: Tractis Webservices.
What are Tractis Webservices?
Possibly, the simplest way of explaining Tractis Webservices is to say that they are
the Amazon Webservices for electronic certification
Just like Amazon revolutionized the industry by taking hosting/housing to the cloud and  providing the necessary infrastructure (API's, documentation, support, etc.), thus creating a new model for the provision of on demand computing services, Tractis Webservices takes electronic certification services to the cloud, enabling their consumption in a 100% self-service mode and under strict pay per use.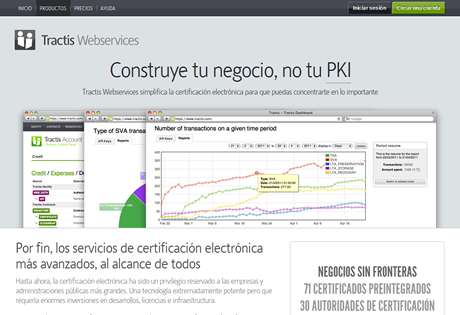 We are not talking here just about "first level" services, such as identity verification or document signature with electronic certificates (areas that we cover already with Tractis Identity and Tractis Signatures), we are talking about precisely direct access to the underlying infrastructures making these "first level" services possible.
In essence, we have opened the Tractis public key infrastructure ("PKI"), connecting the electronic certification security the primitives to the outside world via API's and under a strict pay per use model. "Validate certificate", "extract identity attribute", "validate electronic signature", "generate time stamp", "validate time stamp", "preserve electronic evidence"… are some of the calls you can make to the Tractis Webservices API, paying only a few Euro cents per call.
Much more than your PKI in the cloud
Tractis Webservices includes not just the customary services of a Public Key Infrastructure ("PKI"), but also powerful additional functionalities, exclusive to the Tractis platform such as the world largest selection of pre-integrated certificates, pre-mapped identity attributes, hot-swapping, unlimited APIs in seconds, real time reporting, unified billing, pre-integrated services requiring zero configuration,  APDU commands support and many more.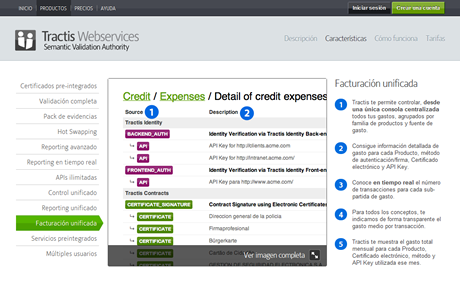 These are the Tractis Webservices that we launch today:
At last, the most advanced electronic certification services within everybody's reach
Until now electronic certification has been a privilege reserved to the largest corporations and public administrations. An extremely powerful technology but one requiring enormous investments (in the "millions of Euros") in software development, licenses and infrastructure.
Tractis Webservices puts an end to all this. Now you can enjoy the latest advances and standards with zero fixed costs, paying for use only. Without having to spend a penny in pilots, licenses, registrations, configurations, maintenance, improvements, hidden costs or any other headaches.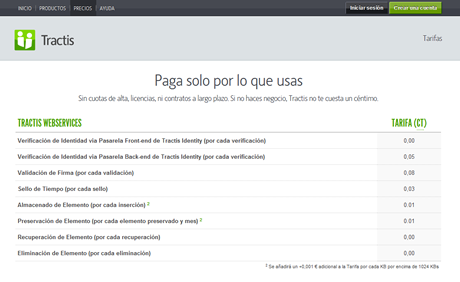 To get a feel for the field and technology we are talking about, let us give an example. Until now, to build a pilot, let us say, of a Validation Authority, depending on the vendor and the quality of the intended solution, a bank would have to pay between 50,000 and 150,000 Euros (Just for the pilot!). From today, thanks to Tractis SVA, anybody (even the most destitute entrepreneur and "start-upper") can validate certificates from 71 Certificates from 30 Certification Authorities in 13 countries, paying just 0,08 € per validation, or generate a time stamp for only 0,03 €, or preserve any type of electronic content for only 0,01 € per evidence and month of preservation…
With these prices and power at your disposal, why pay a great deal more to have something worse? We think it is only a matter of time that, not just small developers, but large businesses also start to realize that large PKIs developed, installed, integrated, maintained and improved in-house are condemned to disappear. In these times of brutal competition and relentless search for maximum efficiency they will make less and less sense by the day.
Pioneers in "self-service PKI" in the cloud
Tractis Webservices is a pioneering initiative in the world. The first of its kind. No doubt, there are solutions for doing PKI outsourcing, but, until today, there was no service where any person, whatever their budget was, could register in a fully unattended mode, create an account in 60 seconds, and have access to a latest generation PKI, with zero fixed costs and paying for use only. And that makes a world of difference.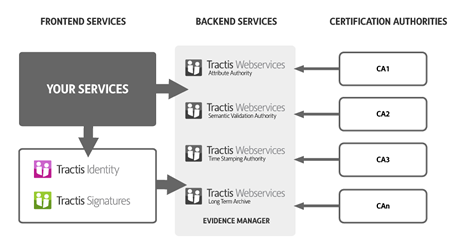 We think that Tractis Webservices is a truly disruptive thing, not just in Spain, but worldwide. We expect and we wish that:
It changes the rules of the game in the electronic certification industry.
It promotes the emergence of a multitude of innovative services based on electronic certificates.
Without any doubt, this is the greatest development in Tractis history, not just in terms of code but in its potential impact in the industry future. For Tractis this represents a key milestone in our positioning as a provider of PKI infrastructure in the cloud. Getting to this meant not just refactoring and optimizing the existing back-end and creating the new APIs and management consoles for each one of the Tractis Webservices, but also the development of a new billing module supporting millions of transactions while still being capable of providing transparent real-time reporting, unifying Account Types and other news features that we will be announcing in the coming weeks.
We invite you to visit the new Tractis website and discover more about Tractis Webservices characteristics, functionalities and fees.
As from today any business, large or small, or freelance developer have at their disposal the infrastructure needed to create their own services for sending and storing invoices, electronic votes, certified emails, deliver or serve notices with acknowledgement of receipt, contract portability with electronic IDs (e-IDs), electronic payments, on-line medical assistance centers, copyright management platforms, People Legislative Initiatives, or any other innovative or crazy idea you might come up with. Even have your own Tractis Identity or Tractis Signatures!
—
Update 11.07.2011: GenbetaDev, Wwwhatsnew, Loogic and Microlópez cover this launch.
By David Blanco
Saved in: Announcements | No comments » | 23 June 2011
More posts in Negonation Blog